Today's LifeStyle Solutions coordinates a variety of sales and special events that showcase quality merchandise from our clients' homes. Here's where you can find us next!
Visit us on EstateSales.org to see upcoming estate sales and events, as well as past sales that we have completed.
Upcoming Estate Sales and News
Thank You!
Many thanks to those of you that stopped in to our Showroom on Tuesday August 16th, to help us celebrate our one year anniversary at our Travis Lane location! It was great to see you!
2016 Walk to End Alzheimers
Thank you SO much to those of you that donated to our Walk to End Alzheimer's team! Although we got rained on, a lot, during the walk, it certainly was worth it!! Thanks again!!
TLS Honor Flight Fundraiser
TLS Valentines Day FundraiserToday's Lifestyle Solutions, LLC wants to THANK everyone who came out to help us raise money to send a Veteran on an honor Flight. To date we have raised $280.55 towards our $500.00 goal. Yesterdays event also raised an additional $71.00 in donations towards this goal. For a total of $350.55 combined. Susan would like to thank all the media – TMJ4, Fox 6, The Waukesha Freeman and Waukesha Now for covering this event of "Lasting Love" for the two featured couples yesterday at our showroom. I am honored and blessed to know both these couples.
Additionally, Susan would like to thank her mom for making cookies for the event and my daughter Angela for helping me get the showroom ready for the event. And Finally, I would like to thank the love of my life, Mark for taking a vacation day to be with me and for the dozen roses that were delivered at the end of the day! What an amazing day.
Click on the link below, or copy & paste it into your web browser, to view the FOX6 News TV coverage. Pretty exciting!
Waukesha couples celebrating 70+ years of marriage help raise money for Stars & Stripes Honor Flight
TLS Honor Flight Fundraiser
So, we did it. With your help, we were able to reach our goal of raising $500 to send a WWII or Korean War Veteran, or a terminally ill Veteran from another conflict, to Washington, DC to see their much deserved Memorials. Thank you so, so much for helping us turn our dream into reality!! Pretty sure it's safe to say that Stars & Stripes Honor Flight thanks you as well! We truly do appreciate the support & generosity you have shown to us over the past 5+ years we have been in business!! Thank you, thank you, thank you and we hope to see you soon!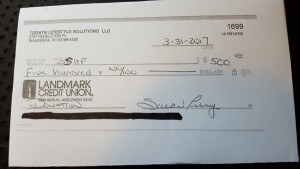 TLS Award from EstateSales.org